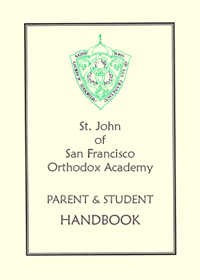 This
Handbook
has been prepared to assist you and your child in achieving our common goal of providing a solid Orthodox childhood embedded with a strong sense of responsibility and community involvement, coupled with a commitment to superior academic achievement. The faculty and staff members of Saint John's Academy are committed to striving toward three principle aims for its students:
1)  Agape, or "Divine Love"; To foster spiritual growth through love for Christ and his Church.
2)  Logos, or "Meaning"; To cultivate intellectual acumen and academic excellence. 
3)  Sophia, or "Wisdom"; To become productive members of society, as well as active proponents of a higher quality of culture. 
The Saint John of San Francisco Orthodox Academy is an Orthodox Christian school, and as such, formal religious instruction, participation in the life of the Church, the Holy Mysteries, and regular Church attendance on Sundays and holy days are at the heart of our curriculum.  All the students and staff participate together in the liturgical life of our school in the spirit of
sobornost'
- the uniquely Orthodox Christian mode of worship and fellowship. In addition to providing an outstanding preparation for college or university, this enables our students to be of benefit to our country and the Church. Saint John's Academy strives to instill in our students a lifelong desire to follow the head of the Orthodox Church, Our Lord God and Savior Jesus Christ.
By choosing Saint John of San Francisco Orthodox Academy, students and their families indicate a commitment to the religious nature of the school as well as a willingness to support the school's regulations regarding academic achievement, behavior, and participation in parental and student activities.
Please note that the contents of this Handbook, including all its sub-sections, are formal policy documents from St. John's Academy, and in their current form as found on this web site constitute binding school arrangements and policies. It is important that all families read this Handbook carefully, and ensure that they remain up-to-date with the most recent materials in this on-line version. A child's enrolment at St. John's indicates a formal acceptance on the part of the child and family members to abide by all the contents of this Handbook.
Notice of nondiscriminatory policy: 
St. John's Academy admits students of any race, color, national and ethnic origin to all the rights, privileges, programs, and activities generally accorded or made available to students at the academy. It does not discriminate on the basis of race, color, national and ethnic origin in administration of its educational policies, admission policies, scholarship and loan programs, and athletic and other academy-administered programs.
SAINT JOHN OF SAN FRANCISCO ORTHODOX ACADEMY RESERVES THE RIGHT TO CHANGE, ADD, OR DELETE ANY PREVIOUSLY STATED SCHOOL POLICY. FAMILIES WILL BE NOTIFIED OF CHANGES VIA ELECTRONIC OR OTHER MEANS FROM THE SCHOOL OFFICE.